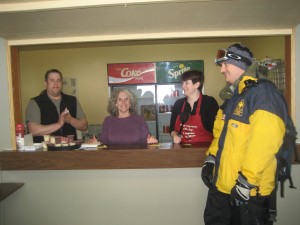 We are a volunteer operated ski facility and are always looking for volunteers to help out!
If you feel like getting some fresh air, enjoying the scenery (and wildlife!) then contact us and we will find a spot for you. To volunteer contact Scott Beeching at 778-521-0531
For ski patrol, contact Bryce Mancell at 250-433-1804 or brycemancell@hotmail.com
Monthly meetings open to members and the public are held on the first Monday of every month from 8 – 10 pm at the ski lodge.  Anyone is welcome to attend as it is a great way to find out what we are all about! During summer months, contact us ahead of time to check for meeting dates.
We also hold our annual AGM in May, so if you are interested in joining the board we are always looking to add to our enthusiastic and dedicated board member team.