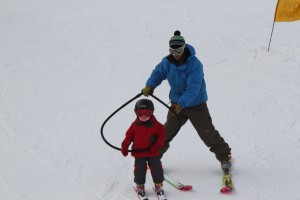 Offering Snowboard Lessons
We currently offer snowboard lessons, they are held every Thursday from 7 to 8pm and select Saturdays in February.  See the office for sign up and details.
Helmets are Mandatory!
Instructor Training
Have you thought about becoming a ski instructor, perhaps earning some spare cash on the side? Well here's your chance!
We are currently in need of some additional ski and snowboard instructors.  Canadian Assosiation of Snowboard Instructors and the Canadian Ski Instructors Alliance are the governing bodies for instructors in Canada.  To become an instructor you must first pass one of the level 1 instructor courses.  Contact us and we will provide you with a free session to prepare you for the course.
Contact us via our Contact Form for more information about lessons and instructor training.
*12 and Under Helmets are Mandatory*